Sorry, I know it has been a while.
The new record is here! (Just go to the left side bar under recordings and click on the baby doll for clips, ordering/download info, lyric and liner notes)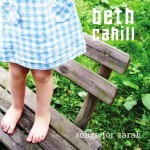 It looks beautiful! – thanks Dana.
I think it sounds pretty goodas well!  – thanks Graham, Marilyn, Michael, James and Brian.
While I am happy that it has finally come together, I must admit that I am sad too.
I am sad because my father will never hear it.  He passed way just before Christmas after a brief but very courageous battle with cancer.
In the weeks before he died, we spent everyday together.   My sister Susan and I would  play for him.  Me on guitar, Sue on bass.  We would trade off lead and harmony vocals.  In times like these, you re-connect with the power that song/music has to reach directly into the soul.  As if every note I ever sang and every chord I ever strummed was in preparation for this performance.  The honour of playing for my father during these moments.
On my way home from the hospice just after he left us, I asked myself what would dad do now.  The answer came quick and clear.
He would pick up a gallon of milk.  Go home. Take out the garbage and make hot cocoa.
That is exactly what I did.
Dad's Hot Cocoa
2 cups milk
1/4 warm cup water
1 tsp. cocoa powder
1 tsp. honey or maple syrup
pinch of cinnamon
pinch of salt
In a sauce pan heat milk and honey over medium low heat
In a cup mix cocoa powder, salt and cinnamon
Adding water slowly to the mixture making smooth watery paste
Add cocoa mixture to the milk stirring gently and completely
Adjust the saltiness or sweetness depending upon what you need.