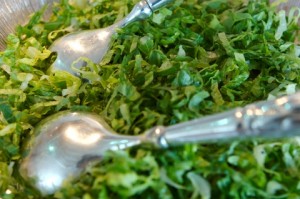 If only working up a new song was as simple as making a delicious salad dressing…  In addition to writing, I have set a goal to work up at least one new song every month that I love. It can be a traditional ballad, a jazz standard, something penned by a dear friend or an acoustic take on an 80s electro-beat single.  It just has to be a song that I love and think I can perform well.
Now for the salad dressing – this one is kind of like Smokey's – Tears of a Clown or Rogers and Hart's – My Funny Valentine. I never tire of it.
Basic Balsamic Vinaigrette
1 teaspoon dijon mustard
2 tablespoons balsamic vinegar
1/4 cup extra virgin olive oil
1/2 teaspoon maple syrup
salt
mix mustard and vinegar until blended smooth
add olive oil
now the maple syrup
salt to taste
I tend to make mine on the sweet side.  It encourages my kids to eat more greens.
Love and kalamata olives,
Beth