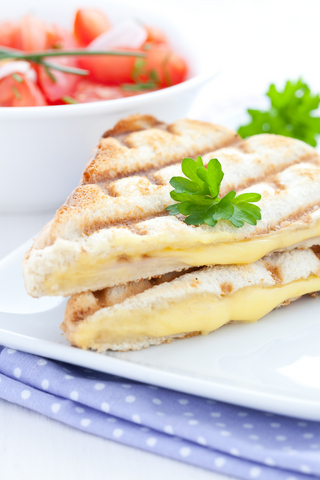 Just about any grilled cheese sandwich is improved by the addition of some fresh fruit or vegetables. Apples, tomatoes, spinach, zucchini or Bermuda onion are my top choices. My kids love sliced apples! I always grill in grandmothers 100 year old cast iron fry pan using butter.
Some of my favourite variations on the ultimate comfort food include:
Grilled Cheese
Smoked gouda, tomatoes, green salsa and sourdough;
Sharp cheddar cheese with cortland apple slices, spinach on multi-grain bread;
Cream cheese, green olive with pimento and walnuts on whole wheat;
Spicy jalapeño pepper havarti cheese on cinnamon raisin bread;
Dill havarti, zucchini on pumpernickel
Travel tip: I have yet to walk into a restaurant whether it be a burger joint, steakhouse, chinese buffet or Dairy Queen that could not to make me a grilled cheese and tomato sandwich – just ask.
I am always looking for new ideas, so please if you know of other great combos, send it this way!
Love and chocolate milk,
Beth