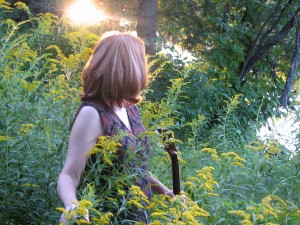 In thinking about how to use posts to tell you about the music, the shows, the band and all things me; it occurred to me that it would really be nice to keep in touch regularly but also actually have something to useful to say. So I thought that could take this opportunity to share with you not only music stuff, but also my love of food and my hopes for the future.
I confess I am a natural vegetarian. I prefer mashed potatoes to meat any day. Because of this, it is really easy for me to "take the high road" and tread a little more lightly on the planet. I know for a lot people, this is not so easy. My husband Kev describes himself as a "baco lacto" vegetarian. He understands well, all the reasons way we should eat less meat but he just loves his bacon.
This is why I really like the idea of Meatless Mondays. If we could just eat a little less meat, our carbon foot print would be that much lighter, our cholesterol that much lower and we would be that much closer to a future that was not only sustainable but also a future where all of us could go to sleep every night secure that we will have enough to eat the next day.
So here is my promise. I will try my best to be an un-sanctimonious vegetarian and in addition, post my best, simplest and fastest vegetarian recipes for everyone out there to enjoy, share and improve upon. I would love it if you suggestions or variations to send them to me.
Ok here it goes – I will start simple and thanks for reading this far!
Preparation time : Takes about 30 minutes.
Creamy Broccoli Soup
1 large onion
2 leeks
1 big bundle of broccoli (about 1/2 lb.)
2 tablespoons butter
1 tablespoon olive oil
1 large potato
2 tablespoons basil
1 teaspoon oregano
Shot of white wine
3 teaspoons salt
Pepper
Cream (optional)
In a large soup pot, over medium low heat, melt butter and olive oil. Dice onion and leeks and sauté. Peel broccoli stems, dice florets and stems. Add broccoli to onions and leeks and stir frequently. You want to get everything to get tender but not brown. If it does get brown don't worry, just turn the heat down a bit. It will still taste good.
Peel potato and dice. Add along with basil and oregano. Continue to sauté vegetables until onions are translucent and brocolli is soft. About 10 minutes.
Add a shot of wine and then a 1 quart of water and turn heat up to medium high/high. Boil everything vigorously for about 15 minutes until the potato is cooked and soft.
Remove from heat and carefully, so as not to splatter yourself with piping hot liquid, purée until smooth with a Braun swizzle hand held mixer stick.
Note: If you do not have one these sticks – get one. They are cheaper and easier to clean than any blender I have ever known. After using it, just run it under the tap with warm water and until clean. Put it in the dish rack and you are good to go until next time. These sticks are essential for making soups, smoothies, shakes, lassies etc.
Return soup to heat and add water to make soup as thick or as thin as you want.
Salt and pepper to taste
Hint #1 : When making soup, always add the salt at the very end. This is how my mother does it and she is usally right about these things.
Hint #2 : Just before serving, I always add a little cream in my kids' bowls and stir. It cools the soup down and makes it a little sweeter. Kev and I usually forego the cream. It is plenty creamy just as is and you get more vegetable flavour. C'est votre choix.
Enjoy!