About Beth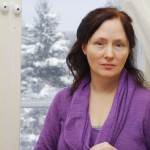 "Grab your white sneakers and jump on this comet the next time it comes around." Dirty Linen
Beth was born in Evanston, Illinois, but has wandered just about everywhere since. She left home as a classical musician, intending to play the French horn. She discovered quickly that her real passion was not the symphony but the song.
A lifelong love affair with the mandolin lead her to explore other instruments that speak to the world in fifths (tenor guitar, mandola and cittern). This tonal structure, her off-the-beaten-path view of the world and her distinctive voice are the foundations of her sound.
She released Hitching to LaPaz in 1999, after hitchhiking across South America with her husband Kevin. In addition to her solo work, in 2001, she formed, along with Lisa Markley and Gina Forsyth, the way-cool folk trio The Malvinas. Together, The Malvinas have release two distinctively fabulous recordings : I'm not like this and Love, Hope and Transportation. In addition, the trio has logged thousands of miles performing at festivals, coffeehouses, concert halls and house concerts.
Solo, Beth is a storyteller weaving her love of travel, food and irony into an engaging narrative. For the audience, every performance is an intimate journey – from the desert of west Texas, to an Andean mountain village, to a gas station in northern Ontario.
Her newest release Songs for Sarah is a sonic departure for the Canadian Malvina. Working in close collaboration with longtime friend, guitar god and producer, Graham Duncan, Songs for Sarah is all about being at a different point in life.
Yes, it is all the things you discover when you become a mother. But also it is all the things you'd forgotten about being a kid. Most importantly, Songs for Sarah is about all the things you want the future to be, now that you have such an immediate stake in it.
Along the road, Beth has been invited to appear, among other places at: The Kerrville Folk Festival, Festival Memoire et Racines, The New Orleans Jazz and Heritage Festival, Festival International, the PBS syndicated television show Texas Music Café and WFMT's Folkstage. She has been a Kerrville Folk Festival New Folk Finalist and has also been fortunate to share the stage with some great artists including Eliza Gilkyson, Jack Hardy, Jeff Lang and Maura O'Connell.
She calls Wakefield, Quebec home but tours extensively across North America, both solo and with The Malvinas.